จักยานไฟฟ้า , มอเตอร์ไซด์ไฟฟ้า,Electric Bike&Motocycle Motorsแบบ แบตเตอรี่ ลิเธี่ยมไอออนฟอสเฟต (Mangese (II) Phosphate)
จักรายานไฟฟ้า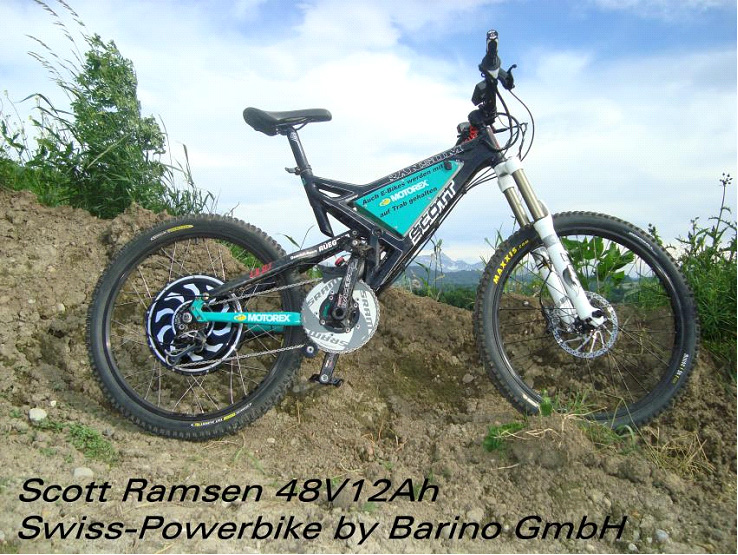 จักรยานไฟฟ้าแบบพับได้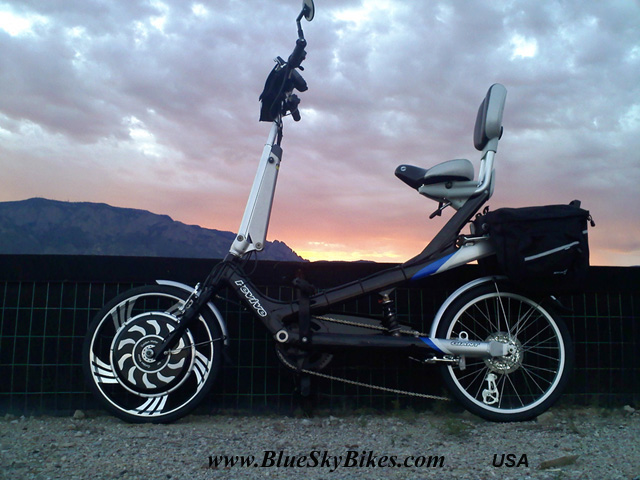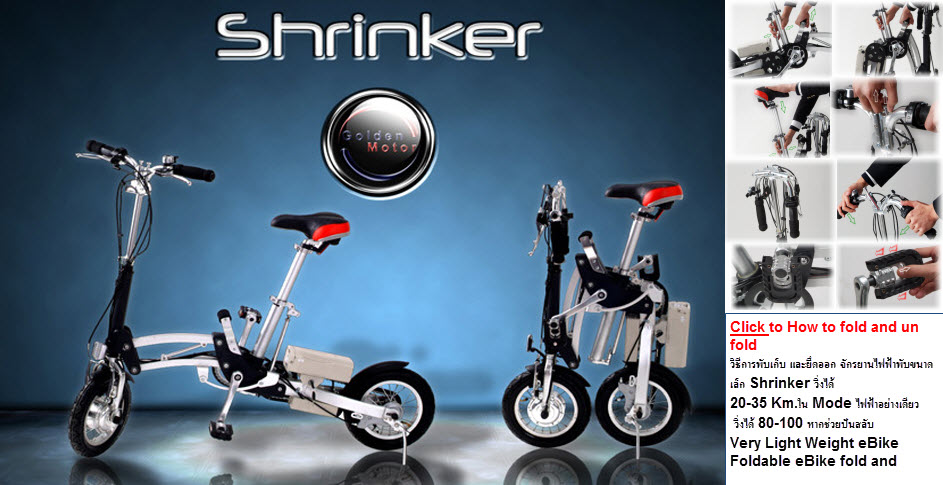 จักรยานไฟฟ้าแบบพับได้ Shrinker,Hybrid Folding eBike,จักรยานไฟฟ้าแบบพับ,
electric Folding Bikevery light Weight Foding eBike-Shrinker,พร้อมระบบ Regenerative
(มีระบบชาร์ทไฟกลับเข้า แบตเตอรี่ เมื่อเบรค,ชลอ,ลงเนิน) จักรยานไฟฟ้าขนาดเล็ก พับได้เร็วสุด 3 วินาที
Ebikes for Teenages รุ่น FLY พร้อมระบบ Regenerative (มีระบบชาร์ทไฟกลับเข้า แบตเตอรี่ เมื่อเบรค,ชลอ,ลงเนิน)
จักยานไฟฟ้า Moutain Bike พร้อมระบบ Regenerative(มีระบบชาร์ทไฟกลับเข้า แบตเตอรี่ เมื่อเบรค,ชลอ,ลงเนิน)
High Efficiency and Reliable, All-in-One MagicPie Hub Motors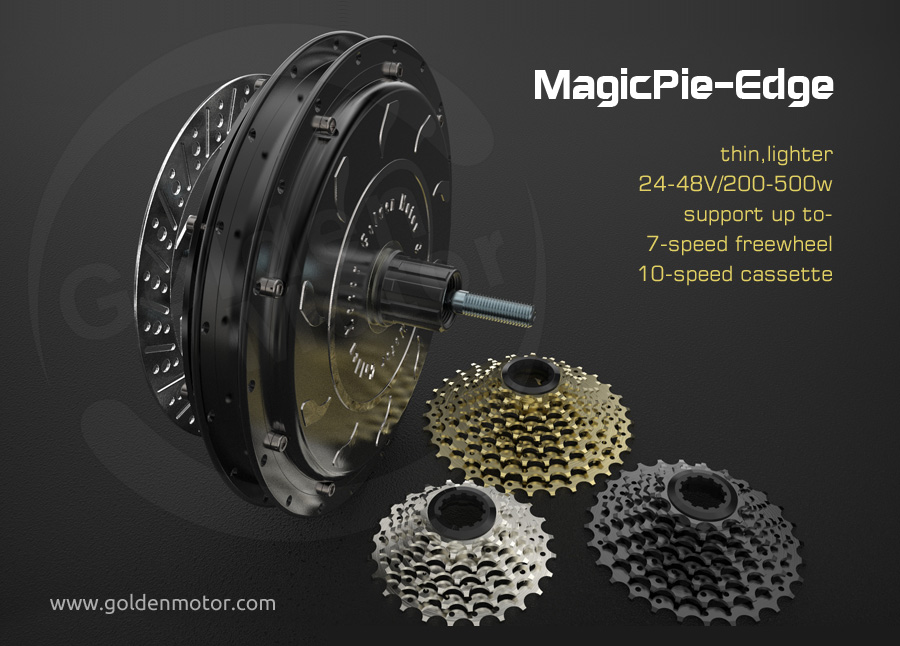 MagicPie Edge (New Version ) Technical Details and Photo Click Here >>>
Download SmartMeter Apps (Android) Here for Your Smart Phones
Magic Pie 2.5 Version

MagicPie 3.0 Version (Front wheel)

MagicPie

3.0 Version

(Rear wheel)
The Best Ebike Driving Solution Provider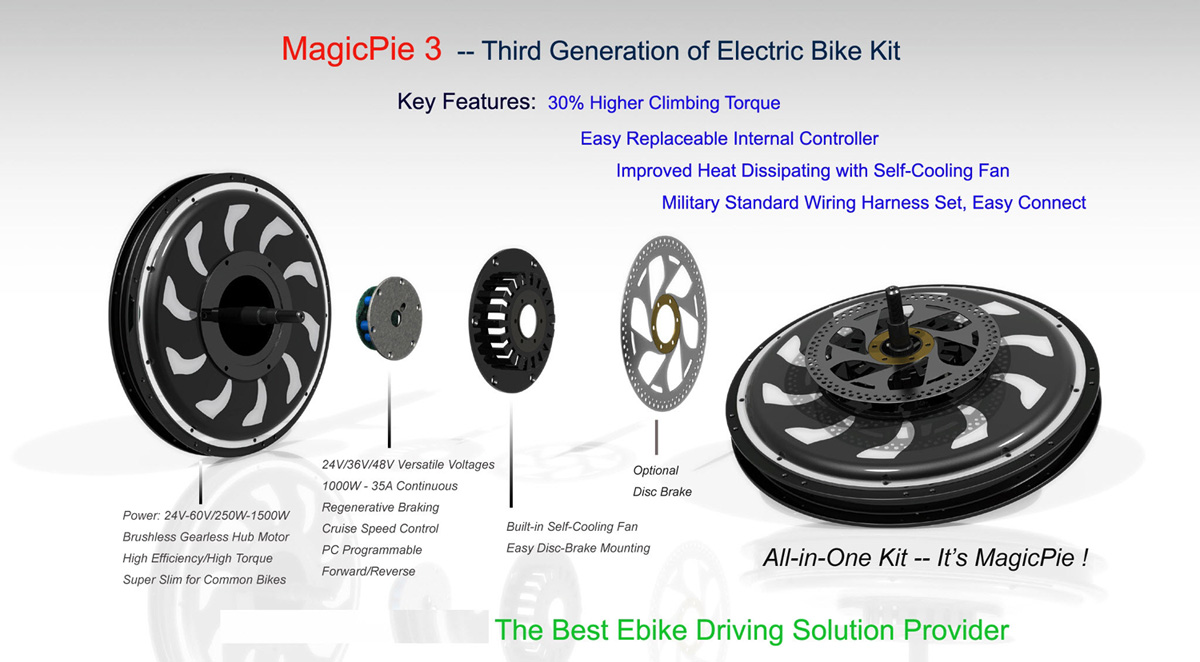 Model: MagicPie Hub Motor with Regenerative (มีระบบชาร์ทไฟกลับเข้า แบตเตอรี่ เมื่อเบรค,ชลอ,ลงเนิน)
Programmable built-in controller
Accept versatile voltages: 24/36/48V
Regen braking and cruise control
60mm thin hub for common bike frames
Support disc-brake and 7-speed sproket
Power Rating:250W-1000W
Weight: 7.5 Kgs (including internal controller)

MagicPie Motor Performance Curve(PDF): 48Vdc 36Vdc 24Vdc
Performance Data
Data Sheet(PDF): 48Vdc 36Vdc 24Vdc
Hub Motors and Controllers -- Find your EV Driving Solutions Here!
Servovision Co., Ltd. is specialized in manufacturing of all kind of hub motors. GM hub motors are designed for facilitating electric bicycle/scooter/motorcycle/wheelchair manufacturer's assembly. The GM hub motors have slick structure, compact size, high output torque, high efficiency and low noise. They are customizable to meet customer's special requirements. Using current available materials and latest technology, our hub motors provide high performance, feature filled and inexpensive solutions for personal electric transport products.
Electric Bike Motors

Model: USA KIT-- Rear Hub Motor
Voltage:36V-48V (brushless)
Power Rate:500W-1000W
Weight: 5Kgs

Also Available: 36v/750W,48v/1000w





Model: USU KIT-- Front Motor
Voltage:36V-48V (brushless)
Power Rate:500W-1000W
Weight: 5Kgs

Available: 36v/750w,48v/1000w




Model: MBG36F -- Mini Front Motor
24V/36V (brushless/gear/freewheel)
Power Rate:250W
Weight: 2.6 Kgs

Model: MBG36R -- Mini Rear
24V/36V (brushless/gear/freewheel)
Power Rate:250W
Weight: 3.0 Kgs




Model: MW16C -- High Power Motor

(Brushless/Gearless)
Voltage:48V
Power Rate:2000W-3000W
Weight: 9.5Kgs

Drawing(PDF)

Motor Performance Curve(jpg)




Model: MW16CSP-- High Power Motor

(Brushless/Gearless)
Voltage:48V
Power Rate:2200W-3000W
Weight: 9.5Kgs

Drawing(PDF)

Motor Performance Curve(PDF)

-Intelligent disc brake motor
-Roller motor
-80mm motor
-Electromechanical integrated motor
-Electromechanical integrated disc-brake motor

-Roller rear motor
-Super-Mini Intelligent Rear Disc-Brake Motor
-Super-Mini Intelligent Rear V-Brake Motor
Electric Scooter Hub Motors (Super Integrated)
มอเตอร์ล้อไฟฟ้าสำหรับสกูตเตอร์,รถยืน,รถ2ล้อขนาดเล็ก
มอเตอร์ล้อ12นิ้ว

Model: MW12B -- 12" Motor Wheel
Voltage:36V (Brushless)
Power Rate:250W
Weight: 4.8Kgs

มอเตอร์ล้อ16นิ้ว

Model: MW16B -- 16" Motor Wheel
Voltage:48V (Brushless)
Power Rate:1000W
Weight: 6.8Kgs
มอเตอร์ล้อขนาด 8 นิ้ว

Model: HUB24E -- 8" Brushed Gear
Built-in EMB Parking Brake
Manual Brake Release
Easy Replaceable Tire Design
Voltages: 12/24/36 VDC
Output Power: 100W -- 300W
Weight: 4.8Kgs

Drawing(jpg)

Motor Performance Curve(PDF)





มอเตอร์ล้ม

Model: HUB24A -- 8" Brushed Gear
Input Voltage: 12/24/36VDC
Output Power: 100W -- 300W
Weight: 4.3Kgs
มอเตอร์ล้อ(Hubmotor) 16 นิ้ว

Model: PW16C -- 16" Motor Wheel
Voltage:48V (Brushless)
Power Rate:800W
Weight: 13Kgs

Drawing(PDF)

Motor Performance Curve(PDF)



มอเตอร์ล้อ(Hubmotor10นิ้ว

Model: PW-10S -- 10" Scooter Motor (brush/gear)
Built-in EMB Parking Brake
Manual Brake Release
Easy Replaceable Tire Design
Input Voltage: 24 VDC
Output Power: 300W
Weight: 7.7Kgs
มอเตอร์ล้อขนาดเล็ก 6นิ้ว

Model: HUB24T -- 6" Motor Wheel
Voltage:24V (Brushed/gear)
Parking Brake: EMB
Power Rate:75W
Weight: 3.6Kgs

มอเตอร์ล้อ 8 นิ้ว

Model: HUB24S -- 8" Mono Shaft Motor(brush/gear)
Easy Replaceable Tire Design
Input Voltage: 24 VDC
Output Power: 180W
Weight: 4.5Kgs
Brushless Hubmotor Model : MP_300
Brushless Hubmotor (Double Shaft) with Built - in Planetary Gear 250 W - 300 Watts ,24V,36V ,Model : MP_300
Click Here>> Motor Performance Curve(PDF)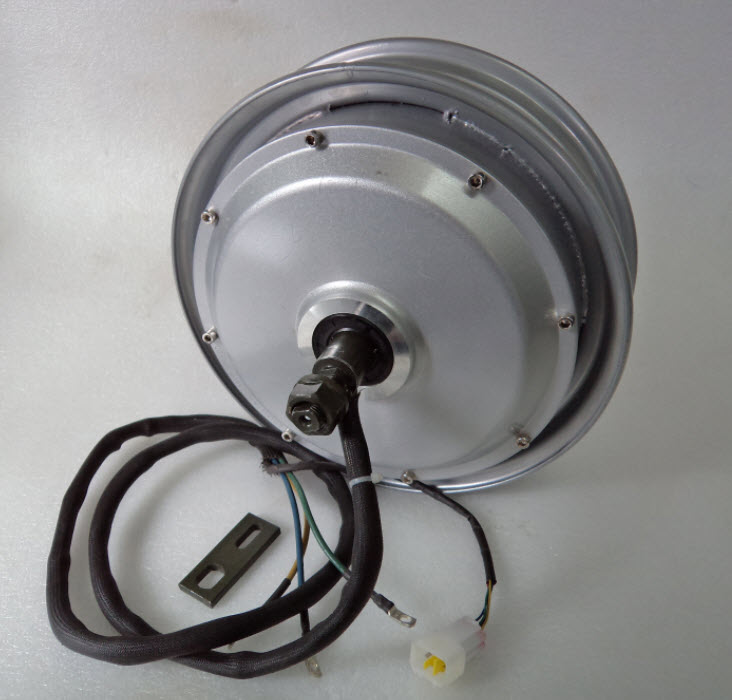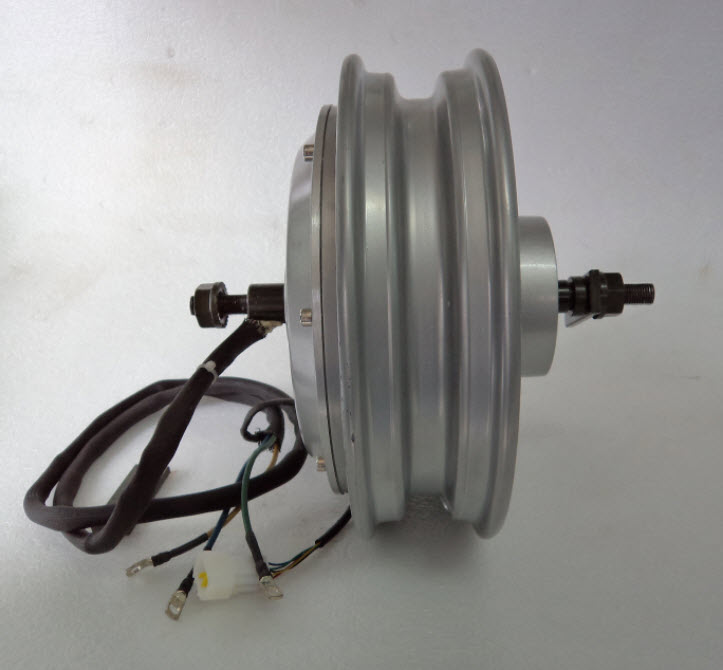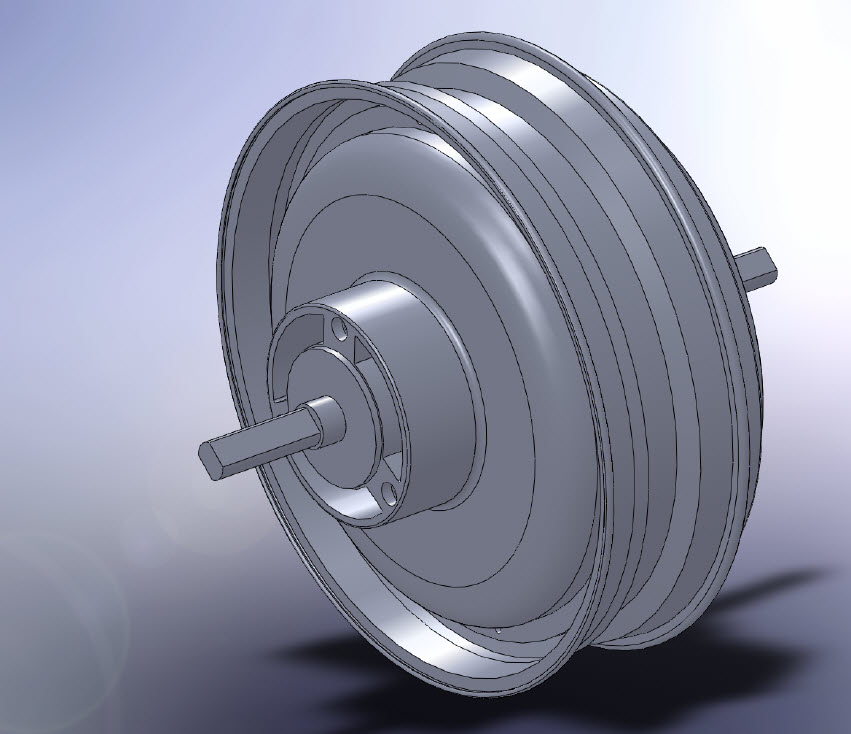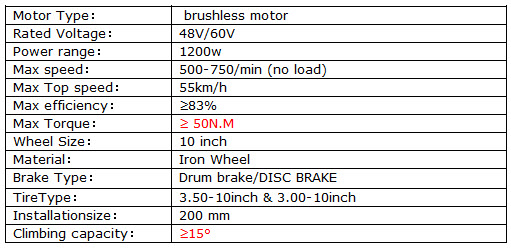 Download >> Drawings SV-DS60V-1200W
Model: HightSpeed slim
24V,36V Version
250 W High efficency 90%
Max.Speed = 1125 rpm. (NoLoad)
Max.Torgue= 7.4 NM.
Hub Diameter =141 mm
Width =76 mm