Kollmorgen Brushless Servo Motors
AC Synchronous Servo Motors – AKM™ Series

Kollmorgen AKM™ servomotors give you unprecedented choice and flexibility, with more than 500,000 standard products and practically unlimited co-engineered modifications. Selecting the right-fit motor—optimized for your specific application requirements—has never been easier.
Features
8 frame sizes, 28 frame/stack combinations
Speeds up to 8,000 RPM
75 VDC; 120, 240, 480 VAC windings
A wide variety of feedback devices, mountings and seals
Direct mate to most Kollmorgen servo drives
Windings are rated at 100°C rise over a 40°C ambient while using 155°C (class F) insulation materials
cURus, CE Compliant, UL Recognition
Options
Feedback devices: resolver, SFD, incremental and sine encoders
Seals for improved environmental protection
Shaft ends closed or open keyway, flat, smooth
Dual or single Intercontec connectors, straight or rotatable
24 VDC fail-safe brakes
IP67 washdown versions with food-grade greases and finishes
Benefits
Unprecedented choice and flexibility from a wide range of standard products and co-engineered modifications for an exact fit to your design requirements
Best-in-class performance, with industry-leading power density
Exceptionally low cogging and low harmonic distortion to ensure smooth performance
Easy to commission and use, with plug-and-play motor recognition and full-frequency autotuning on AKD™ Series servo drives
Specifications
Frame Size
AKM1
AKM2
AKM3
AKM4
AKM5
AKM6
AKM7
AKM8
Stack Length

1,2,3

1,2,3,4

1,2,3

1,2,3,4

1,2,3,4

2,3,4,5

2,3,4

2,3,4

Windings

B,C,D,E

C,D,E
F,G

C,D,E,H

C,E,G
H,J,K

E,G,K
L,M,N

G,K,L
M,N,P

K,L,M,P

T

Max BUS (VDC)

320

640

640

640

640

640

640

640

Max Stall Tc
Nm (lb-in)

0.409
(3.62)

1.4
(12.6)

2.88
(25.5)

6.0
(53.1)

14.1
(125)

25.0
(221)

53.0
(469)

140
(1239)

Max Tp
Nm (lb-in)

1.46
(12.9)

4.82
(42.7)

10.22
(90.5)

20.4
(181)

38.4
(340)

65.2
(577)

143
(1269)

668
(5912)

Max Rated N

8000

8000

7000

6000

6000

6000

3500

3000

Max Rated Power
@ Max BUS
kW (Hp)

.30
(.41)

.54
(.72)

1.19
(1.59)

1.73
(2.32)

3.87
(5.19)

6.16
(8.25)

7.71
(10.34)

19.5
(26.1)
Brochure
Catalog
Manuals
Outline and Dimensions
Performance Curves
AKD Servo Drives and Brushless Servo Motors With Smart Feedback Devices
AKM sizes: 40, 58, 70, 84, 108, and 165 mm
Continuous rated torque: 0.18 N • m (1.59 lb in.) to 11.9 N • m (105 lb in.)
Max speed: 8000 rpm
Operating temperature ambient: -20 to 120 °C
Industrial standards: UR, cUR, CE
Sealing standard: IP40
12 A peak, 6 A continuous current output, up to 1.25 kW output power
Plug-and-play compatibility with AKM servo motors through Smart Feedback Device
(SFD) technology
Fast control-loop update rates guarantee reliable control, accommodate for changing
load condition
120 or 240 VAC powered (1 or 3 phases)
Screw-terminal connectors on I/O allow for fast and easy installation
Optically isolated I/O and encoder emulation

Application and Technology
AKD Servo Drives
AKD servo motor drives deliver cutting-edge technology and performance with one of the most compact footprints in the industry. These feature-rich drives
provide a solution for nearly any application, from basic torque-and-velocity applications to synchronized multiaxis motion using the NI LabVIEW graphical development environment.
AKD servo motor drives are available with step-direction, analog, or EtherCAT connectivity to the motion controller. This flexibility enables a scalable motion system architecture and allows customers to combine AKD drives with the following:
- NI plug-in motion control devices for PCI or PXI
- NI C Series drive interface modules for NI CompactRIO
- Any real-time controller capable of running NI EtherCAT master software such as CompactRIO, NI PXI real-time controllers, NI industrial controllers, or NI Embedded Vision Systems
The versatile AKD servo drives set the standard for power density and performance. High-speed loop rates guarantee reliable control and accommodate changing load conditions
immediately. Integrated optically isolated I/O reduces noise and enables safe operation. Graphical configuration software and features such as autotuning and wizard-based
configuration allow for simplified system setup. If used with National Instruments AKM servo motors, these drives provide plug-and-play configuration through Smart FeedbackDevice (SFD) technology and direct cabling.
Brushless Servo Motors
AKM brushless servo motors, available in a wide variety of frame sizes, speed, and torque ranges, provide superior dynamic performance. Perfectly matched
with AKD servo drives, these motors enable plug-and-play configuration due to integrated SFD technology and simplified cabling.
AKM rotary brushless servo motors incorporate low-inertia rotors and stand out due to their low-cog, low-harmonic distortion magnetic design. Because of their superior dynamic
performance and availability in different frame sizes, speed ranges, and torque ranges, brushless servos are an effective solution for applications such as machine control,
manufacturing test, semiconductor positioning, biomedical machines, and lab automation.
Smart Feedback Device (SFD) Technology
- Resolution 224 counts per revolution
- Accuracy ±16 arc-min net (0.26 deg)
- Plug-and-play configuration SFD technology and direct cabling
Accessories
Direct connect cables for connection to NI 73xx motion controllers and NI 951x drive interface modules
Hardware
- Unlike brushed DC motors, brushless motors contain no commutator assembly, making them less susceptible to mechanical wear and more practical for extended rugged usewith reduced maintenance.
- Brushless motors feature higher efficiency because there are no brushes to cause electrical or friction losses.
- The elimination of ionizing sparks from the commutator makes brushless motors better for oxygen-rich environments.
- Brushless motors run windings along the housing of the motor with the stator mounted on the rotor. This allows for greater heat dissipation through the casing of the motor.
- Brushless motors are entirely encased, protecting the system against particles and debris in dusty environments.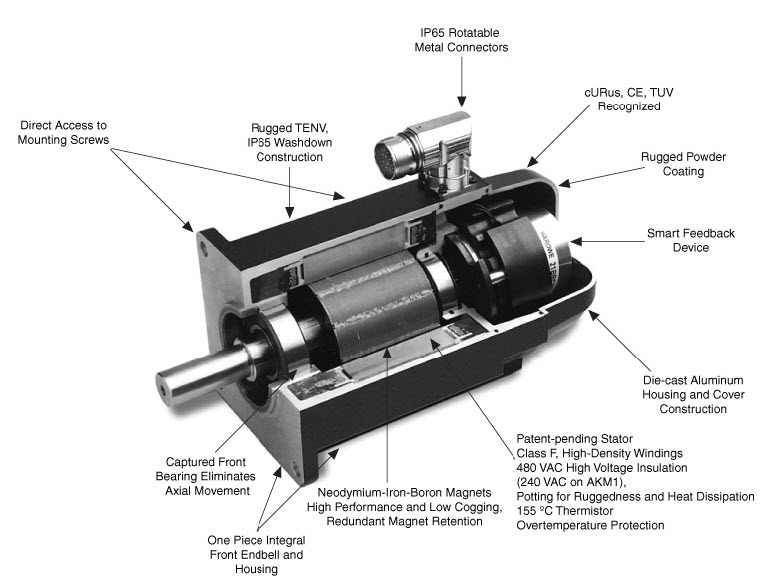 Support and Services
System Assurance Programs
NI system assurance programs are designed to make it even easier for you to own an NI system. These programs include configuration and deployment services for your NI PXI,CompactRIO, or Compact FieldPoint system. The NI Basic System Assurance Program provides a simple integration test and ensures that your system is delivered completely assembled in one box. When you configure your system with the NI Standard System Assurance Program, you can select from available NI system driver sets and application development environments to create customized, reorderable software configurations. Your system arrives fully assembled and tested in one box with your software preinstalled.When you order your system with the standard program, you also receive system-specific documentation including a bill of materials, an integration test report, a recommended maintenance plan, and frequently asked question documents. Finally, the standard program reduces the total cost of owning an NI system by providing three years of warranty coverage and calibration service. Use the online product advisors at ni.com/advisor to find a system assurance program to meet your needs.
Calibration
NI measurement hardware is calibrated to ensure measurement accuracy and verify that the device meets its published specifications. To ensure the ongoing accuracy of your measurement hardware, NI offers basic or detailed recalibration service that provides ongoing ISO 9001 audit compliance and confidence in your measurements. To learn more about NI calibration services or to locate a qualified service center near you, contact your local sales office or visit ni.com/calibration.
Technical Support
Get answers to your technical questions using the following National Instruments resources.
- Support - Visit ni.com/support to access the NI KnowledgeBase, example programs, and tutorials or to contact our applications engineers who are located in NI sales offices around the world and speak the local language.
- Discussion Forums - Visit forums.ni.com for a diverse set of discussion boards on topics you care about.---------------------------------------------------- Online Community - Visit community.ni.com to find, contribute, or collaborate on customer-contributed technical content with users like you.
Repair
While you may never need your hardware repaired, NI understands that unexpected events may lead to necessary repairs. NI offers repair services performed by highly trained technicians who quickly return your device with the guarantee that it will perform to factory specifications. For more information, visit ni.com/repair.
Training and Certifications
The NI training and certification program delivers the fastest, most certain route to increased proficiency and productivity using NI software and hardware. Training builds the skills to more efficiently develop robust, maintainable applications, while certification validates your knowledge and ability.
- Classroom training in cities worldwide - the most comprehensive hands-on training taught by engineers.
- On-site training at your facility - an excellent option to train multiple employees at the same time.
- Online instructor-led training - lower-cost, remote training if classroom or on-site courses are not possible.
- Course kits - lowest-cost, self-paced training that you can use as reference guides.
- Training memberships and training credits - to buy now and schedule training later.
Visit ni.com/training for more information.
Extended Warranty
NI offers options for extending the standard product warranty to meet the life-cycle requirements of your project. In addition, because NI understands that your requirements may
change, the extended warranty is flexible in length and easily renewed. For more information, visit ni.com/warranty.
OEM
NI offers design-in consulting and product integration assistance if you need NI products for OEM applications. For information about special pricing and services for OEMcustomers, visit ni.com/oem.
Alliance
Our Professional Services Team is comprised of NI applications engineers, NI Consulting Services, and a worldwide National Instruments Alliance Partner program of more than 700 independent consultants and integrators. Services range from start-up assistance to turnkey system integration. Visit ni.com/alliance.
Detailed Specifications
AKM 1x Motors
| | | | | | |
| --- | --- | --- | --- | --- | --- |
| | | AKM11C | AKM12C | | |
| Part Number | | 781531-01 | | | |
| Manufuacture Part Number | AKM11B-ANCNC-00 | AKM11C-ANCNC-00 | AKM12C-ANCNC-00 | AKM12E-ANCNC-OO | AKM13C-ANCNC-00 |
Specifications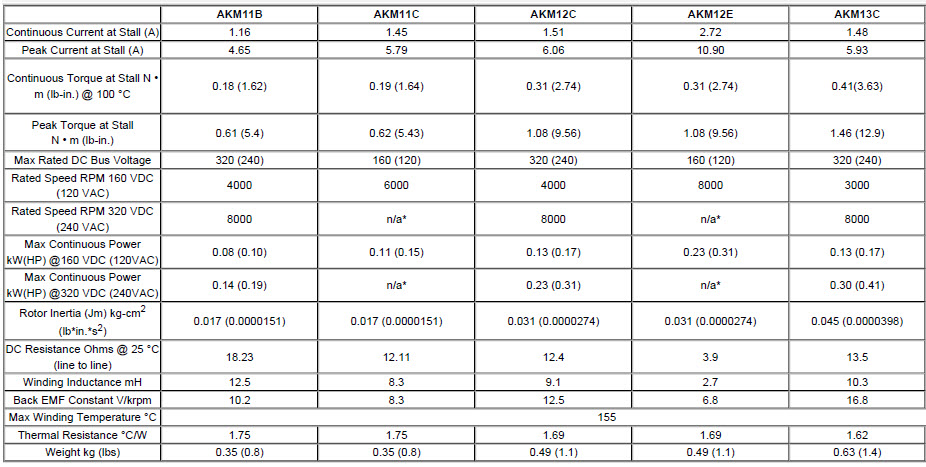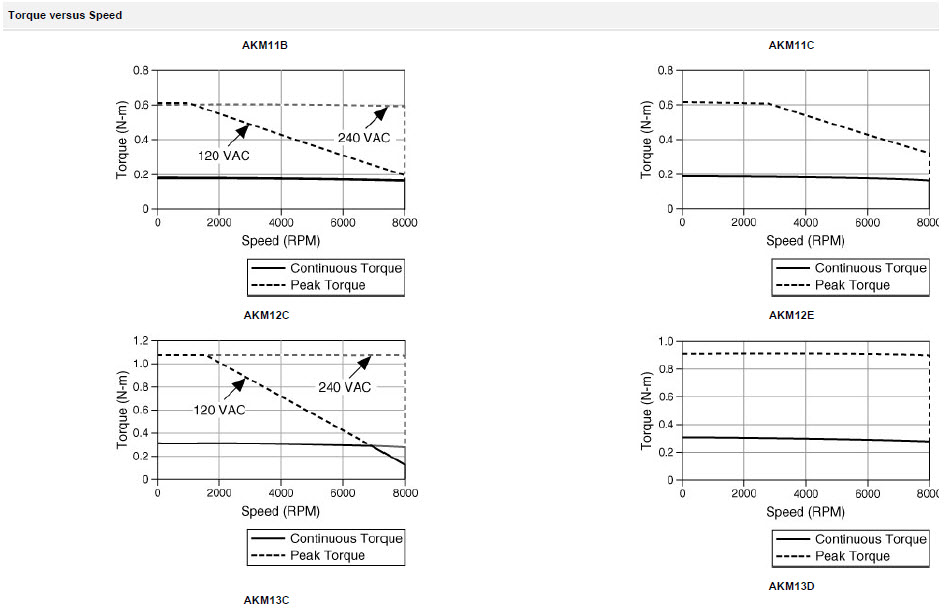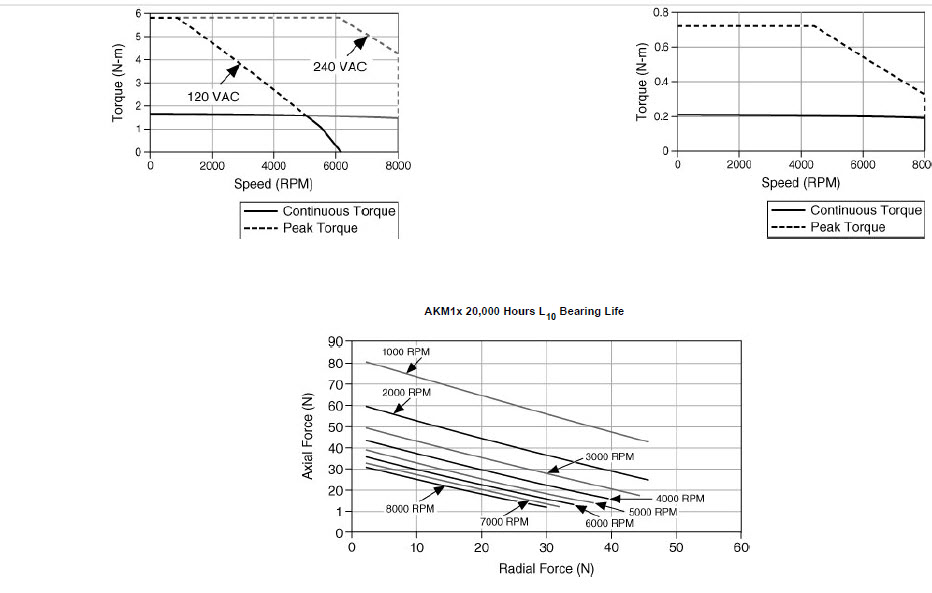 | | | | | | | | |
| --- | --- | --- | --- | --- | --- | --- | --- |
| | | | | | | | |
| Manufacture Part Number | | | | | | | |
| | | | | | | | |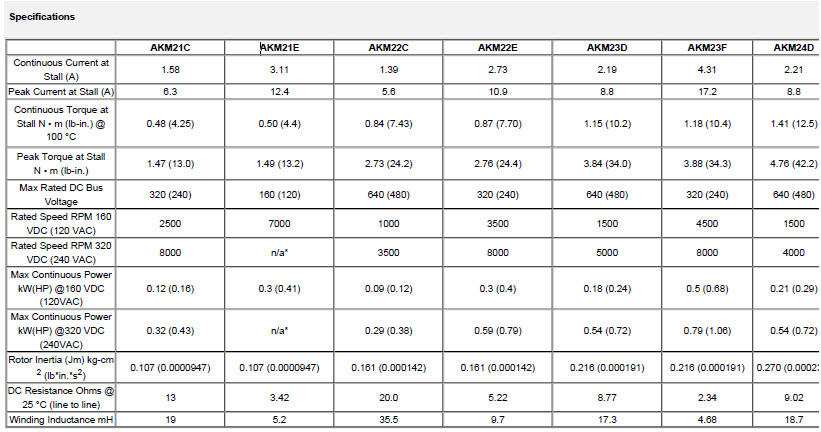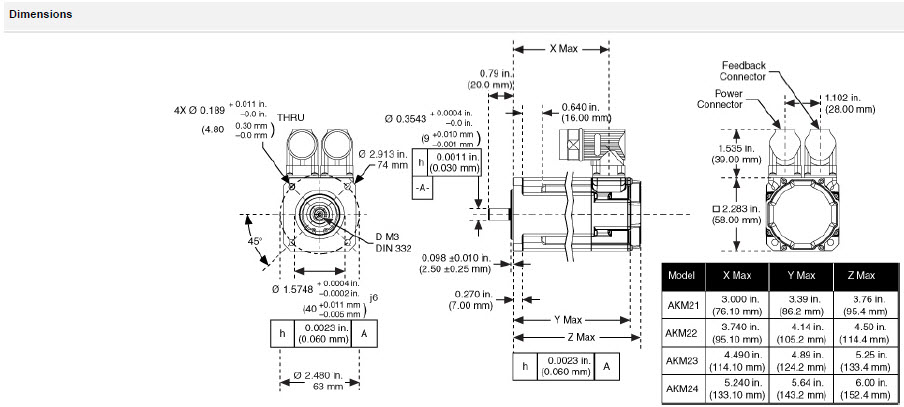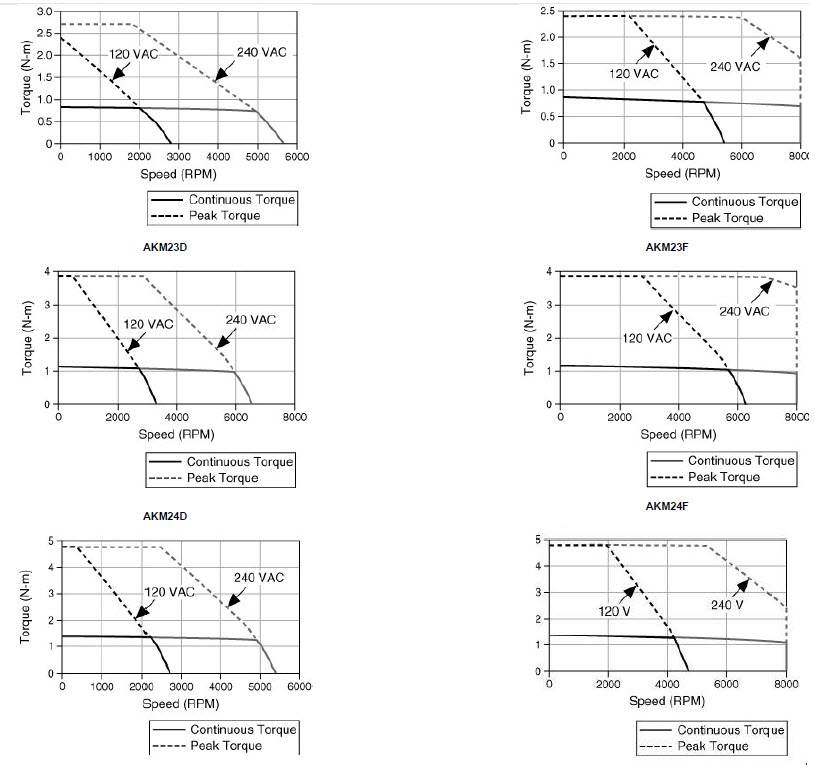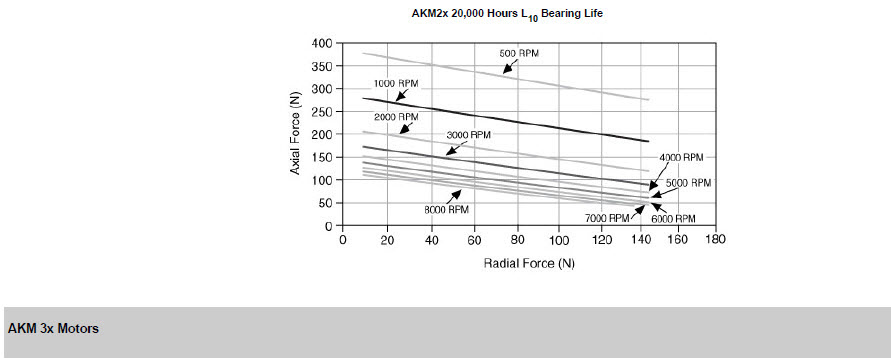 | | | | | | |
| --- | --- | --- | --- | --- | --- |
| | AKM31C | AKM31E | AKM32E | AKM32H | AKM33E |
| Manufacture Part Numbe | AKM31C-ANCNC-00 | | | | |
| Compatible AKD Drive | AKD-P00306 | | AKD-P00306 | AKD-P00606 | AKD-P00306 |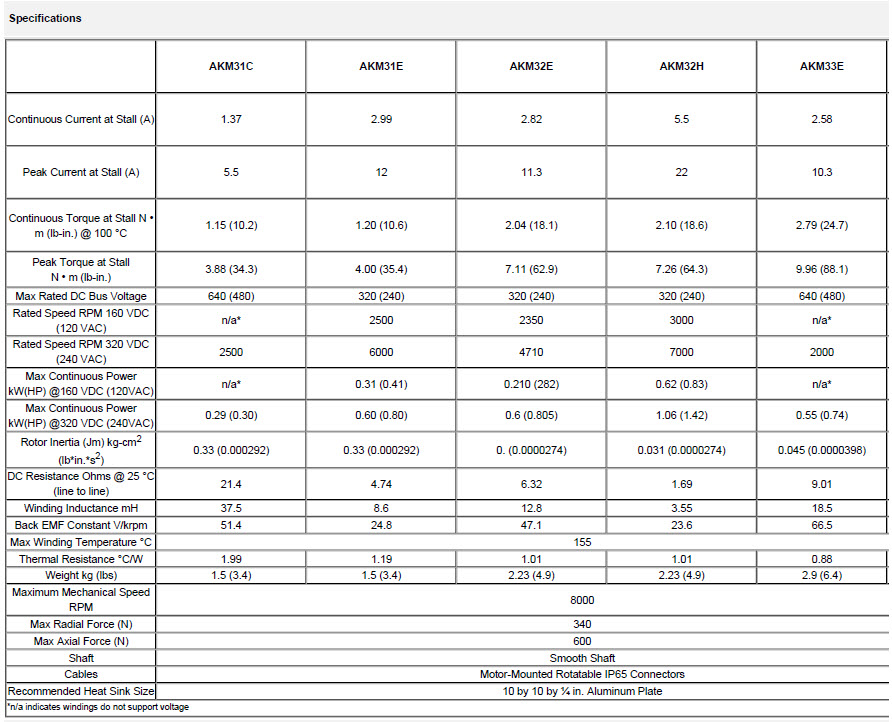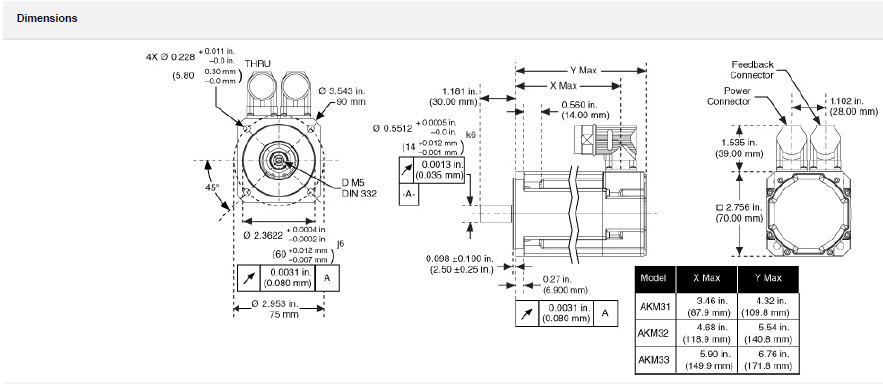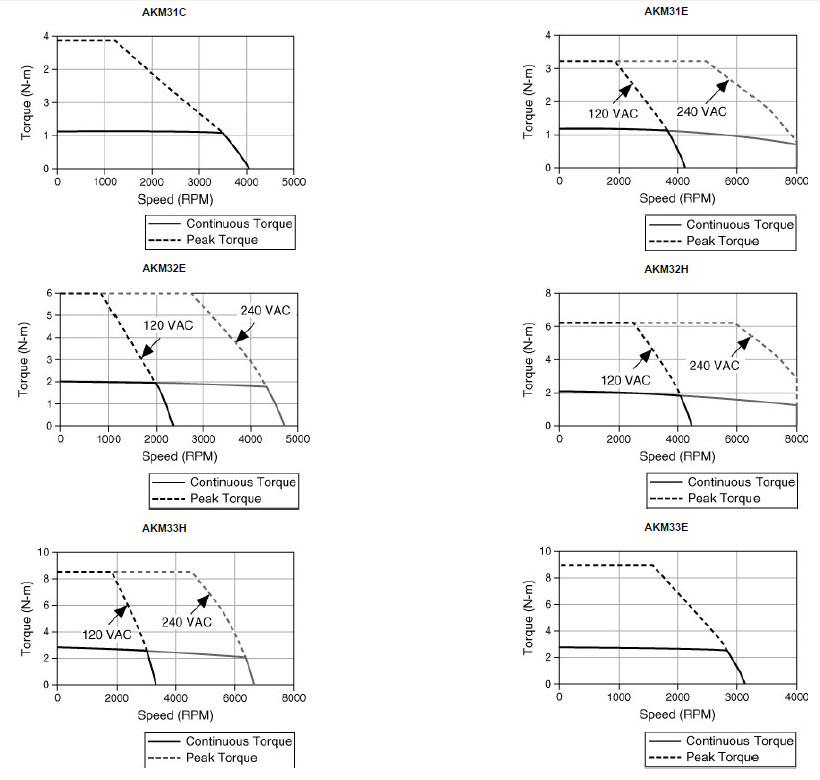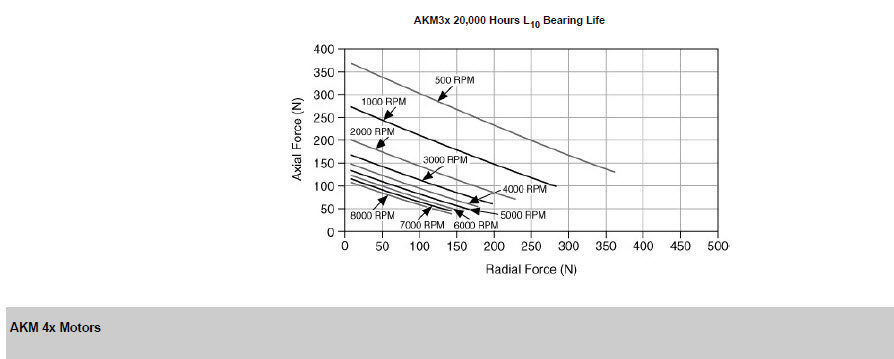 | | | | | | | |
| --- | --- | --- | --- | --- | --- | --- |
| | | | | | | |
| Manufacture Part Numbe | | | | | | |
| Compatible AKD Drive | | | | | | |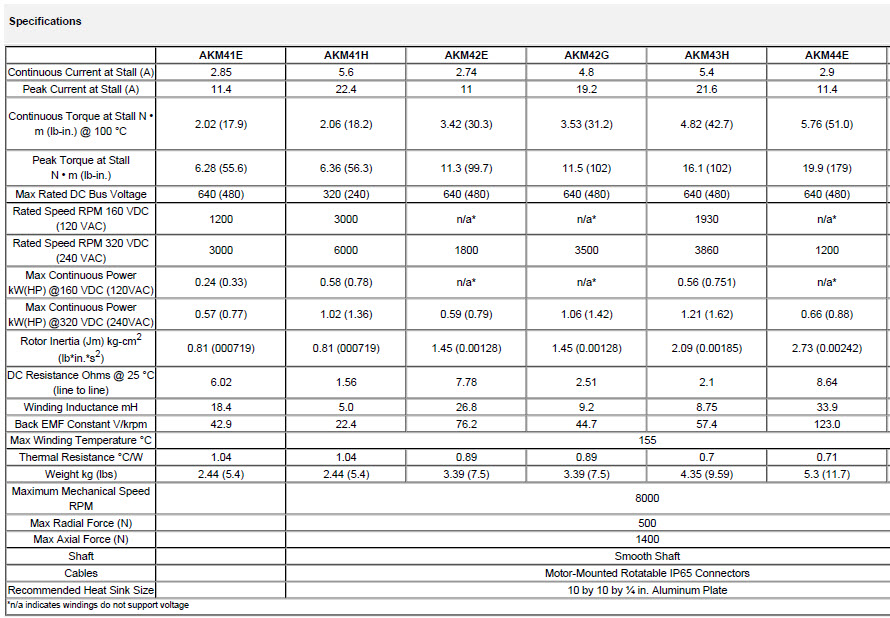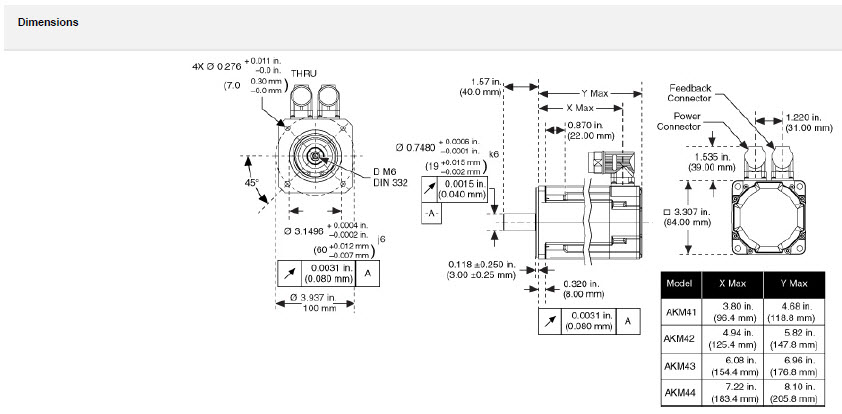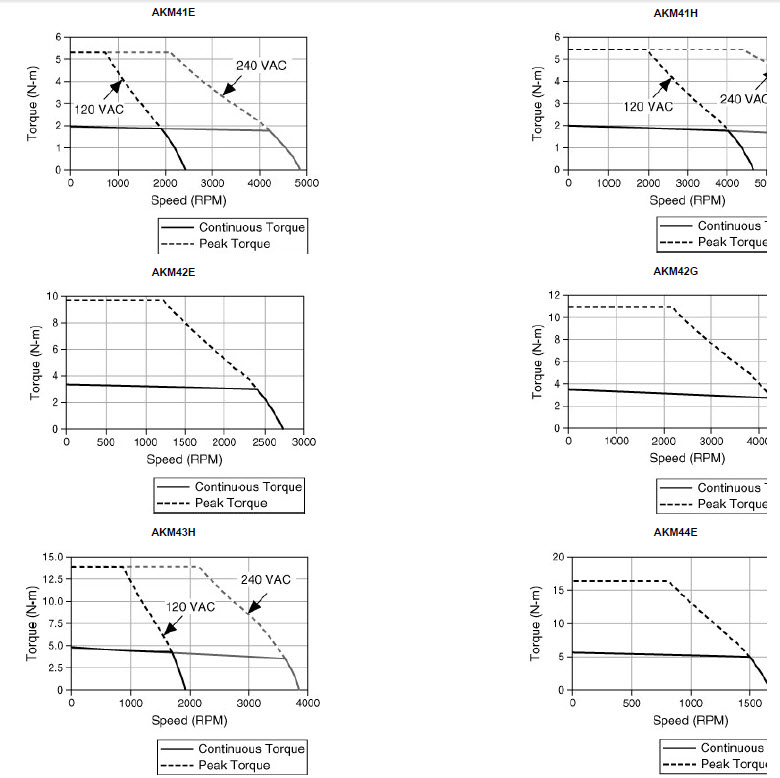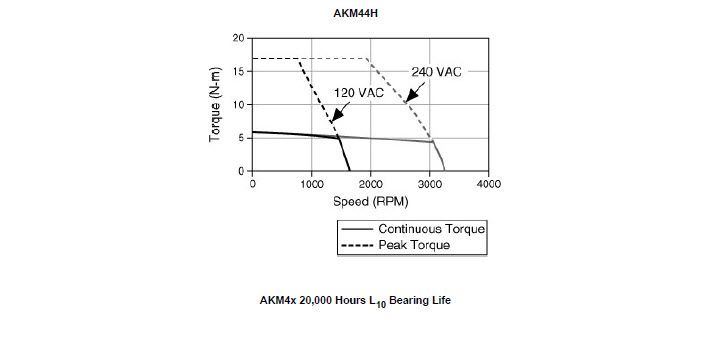 | | | | | |
| --- | --- | --- | --- | --- |
| | | | | |
| Manufacture Part Numbe | | | | |
| Compatible AKD Drive | | | | |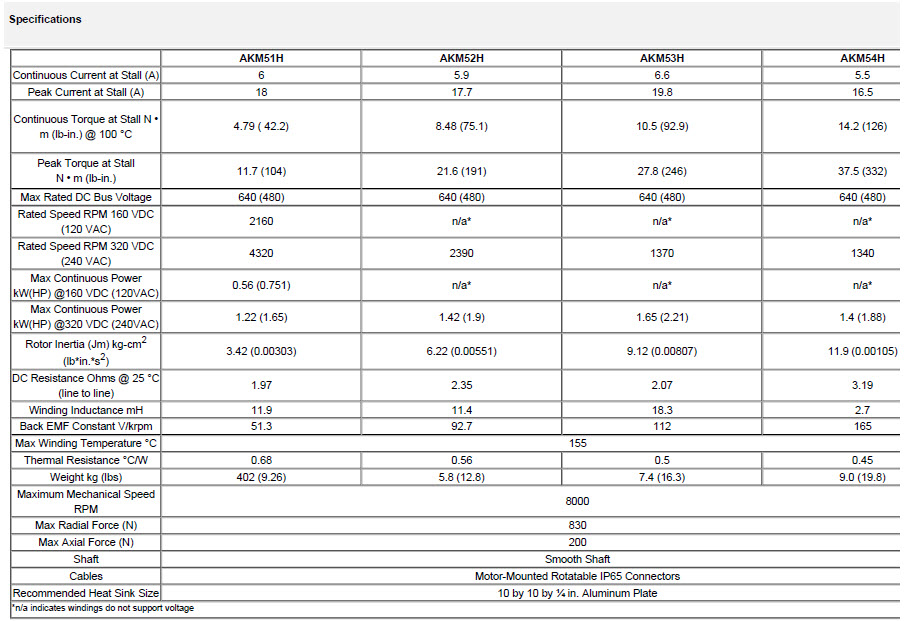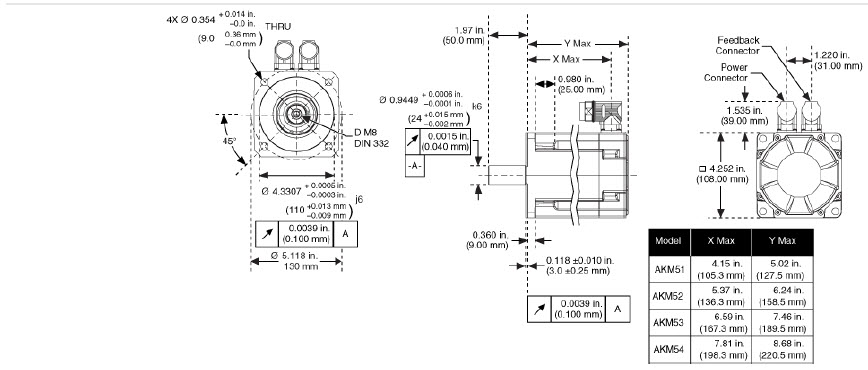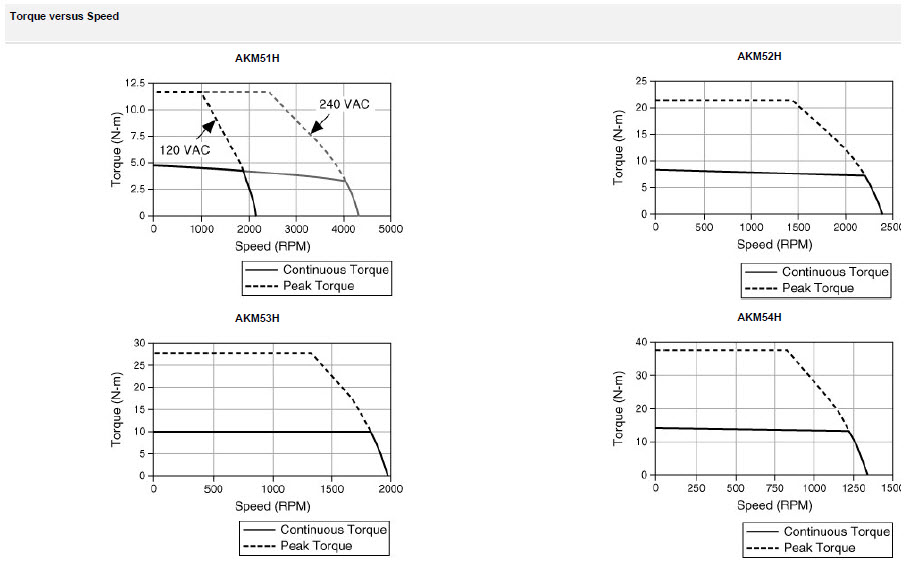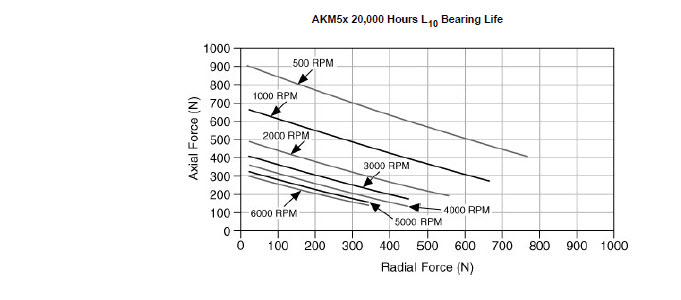 | | |
| --- | --- |
| | AKM62H |
| Manufacture Part Numbe | AKM62H-ANCNC-00 |
| Compatible AKD Drive | AKD-P00606 |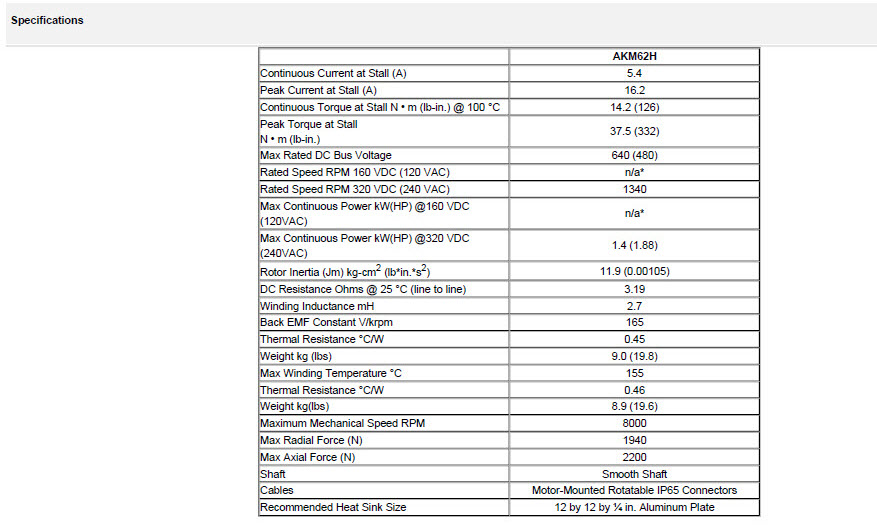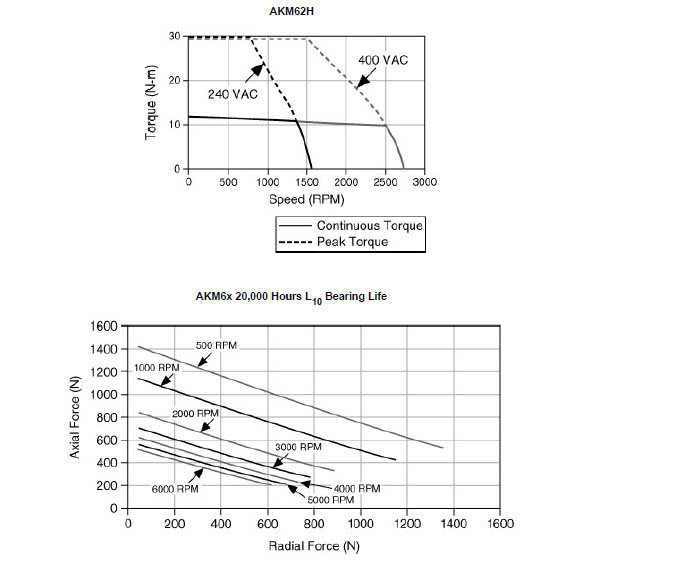 AKM Series Motors with Smart Feedback Device Angle Measurement
Resolution: 224 = 16,777,216 counts per rev = 0.0013 arc-min (220 usable over EtherCAT)
Accuracy: <±0.75 arc-min electrical + sensor error
Size 10 sensor ±16 arc-min net (AKM 1)
Size 15 sensor ±9 arc-min net (AKM 2, 3, 4)
Size 21 sensor ±9 arc-min net (AKM 5, 6)
Electrical noise: <2-17 Rev rms at full bandwidth
Bandwidth: >2000 Hz at -3 dB and >1000 Hz at -45° phase lag
Max tracking rate: >50,000 RPM
Velocity noise: <4 RPM rms at full bandwidth
Velocity ripple: <0.2% pk-pk electronics only
Size 10 sensor <2.5% pk-pk net (AKM 1)
Size 15 sensor <1.5% pk-pk net (AKM 2,3,4)
Size 21 sensor <1.5% pk-pk net (AKM 5,6)
Environmental
Operating ambient temperature: -20 to 120° C
Humidity: 10 to 90% noncondensing
Storage temperature: -40 to 135 °C
Cable Selection Guide
NI 73xx Motion Controller Solution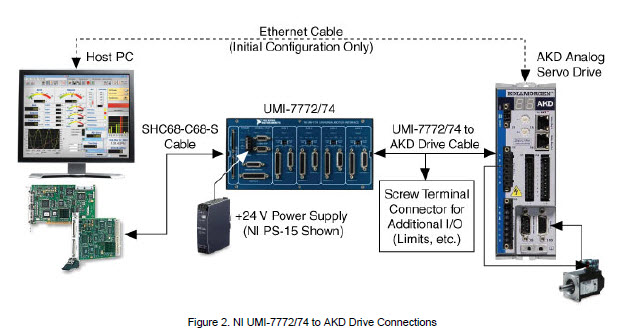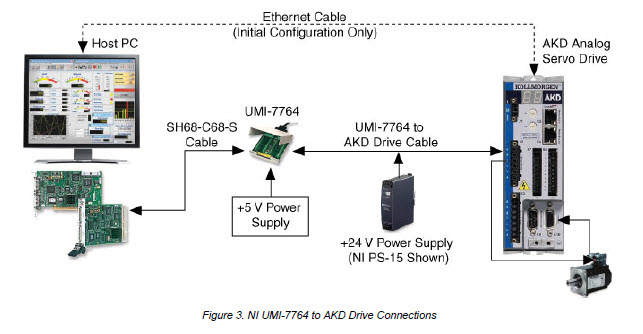 NI 951x C Series Drive Interface Module Solution