Tandler Series HW - Hollow Shaft Mount Gearbox
Tandler hollow shaft gearboxes offer shaft mount designs with keyways, square splines, involute splines, or smooth bores with shrink disks.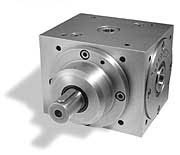 Specifications:
Power capacities from 1 - 300 HP
11 reducing ratios from 1:1 to 6:1
Standard backlash of 5 - 6 arc minutes
Reduced backlash available
Features & Benefits:
Low Backlash - Hardened and lapped matched set gearing provide smooth, reliable and predictable rotary motion.
Universal Mounting - Machined housing and tapped holes allow mounting on all six sides.
Machined Flanges - Provides alignment for perfect shaft centering.
Bearing Options - Ball bearings for quiet operation, tapered bearings for higher radial load capacity.
Special Design - Standard models can be modified for maximum design versatility.